Skip to Main Content
It looks like you're using Internet Explorer 11 or older. This website works best with modern browsers such as the latest versions of Chrome, Firefox, Safari, and Edge. If you continue with this browser, you may see unexpected results.
The Newberry Award
The Newbery Medal is awarded annually by the American Library Association for the most distinguished American children's book published the previous year. On June 22, 1921, Frederic G. Melcher proposed the award to the American Library Association meeting of the Children's Librarians' Section and suggested that it be named for the eighteenth-century English bookseller John Newbery. The idea was enthusiastically accepted by the children's librarians, and Melcher's official proposal was approved by the ALA Executive Board in 1922. In Melcher's formal agreement with the board, the purpose of the Newbery Medal was stated as follows: "To encourage original creative work in the field of books for children. To emphasize to the public that contributions to the literature for children deserve similar recognition to poetry, plays, or novels. To give those librarians, who make it their life work to serve children's reading interests, an opportunity to encourage good writing in this field."
The Newbery Award thus became the first children's book award in the world. Its terms, as well as its long history, continue to make it the best known and most discussed children's book award in this country.
From the beginning of the awarding of the Newbery and Caldecott Medals, committees could, and usually did, cite other books as worthy of attention. Such books were referred to as Newbery or Caldecott "runners-up." In 1971 the term "runners-up" was changed to "honor books." The new terminology was made retroactive so that all former runners-up are now referred to as Newbery or Caldecott Honor Books.
Current Newberry Award Winner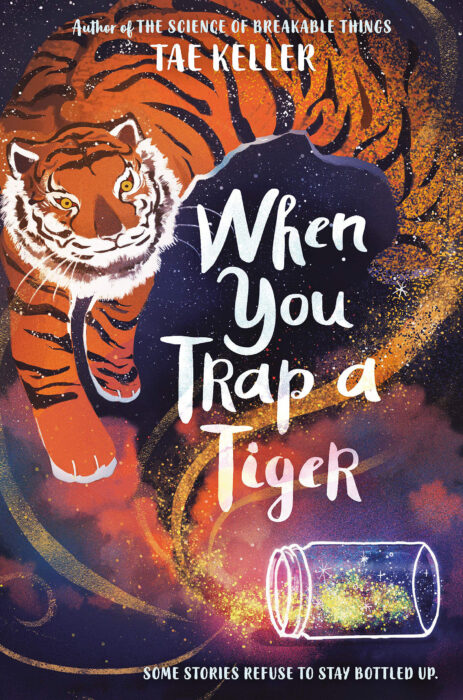 When You Trap a Tiger

by

A hopeful, heartwarming story of a girl discovering her family's past and present when she makes a deal with a magical tiger from her grandmother's stories, the Korean version of "Once upon a time . . ." Some stories refuse to stay bottled up... When Lily and her family move in with her sick grandmother, a magical tiger straight out of her halmoni's Korean folktales arrives. The tiger offers Lily a deal- if Lily will open her grandmother's star jars and return what she stole, the tiger will heal her grandmother. But deals with tigers are never what they seem! With the help of her sister and her new friend Ricky, Lily must find her voice . . . and the courage to face a tiger. Tae Keller, the award-winning author of The Science of Breakable Things, shares a sparkling tale about the power of stories and the magic of family. Think Walk Two Moons meets Where the Mountain Meets the Moon!
Current Newberry Award Honor Books
All Thirteen: the Incredible Cave Rescue of the Thai Boys' Soccer Team

by

A unique account of the amazing Thai cave rescue told in a heart-racing, you-are-there style that blends suspense, science, and cultural insight. On June 23, 2018, twelve young players of the Wild Boars soccer team and their coach enter a cave in northern Thailand seeking an afternoon's adventure. But when they turn to leave, rising floodwaters block their path out. The boys are trapped! Before long, news of the missing team spreads, launching a seventeen-day rescue operation involving thousands of rescuers from around the globe. As the world sits vigil, people begin to wonder: how long can a group of ordinary kids survive in complete darkness, with no food or clean water? Luckily, the Wild Boars are a very extraordinary "ordinary" group. Combining firsthand interviews of rescue workers with in-depth science and details of the region's culture and religion, author Christina Soontornvat--who was visiting family in Northern Thailand when the Wild Boars went missing--masterfully shows how both the complex engineering operation above ground and the mental struggles of the thirteen young people below proved critical in the life-or-death mission. Meticulously researched and generously illustrated with photographs, this page-turner includes an author's note describing her experience meeting the team, detailed source notes, and a bibliography to fully immerse readers in the most ambitious cave rescue in history.

Box

by

In a moving, lyrical tale about the cost and fragility of freedom, a New York Times best-selling author and an acclaimed artist follow the life of a man who courageously shipped himself out of slavery. What have I to fear? My master broke every promise to me. I lost my beloved wife and our dear children. All, sold South. Neither my time nor my body is mine. The breath of life is all I have to lose. And bondage is suffocating me. Henry Brown wrote that long before he came to be known as Box, he "entered the world a slave." He was put to work as a child and passed down from one generation to the next -- as property. When he was an adult, his wife and children were sold away from him out of spite. Henry Brown watched as his family left bound in chains, headed to the deeper South. What more could be taken from him? But then hope -- and help -- came in the form of the Underground Railroad. Escape! In stanzas of six lines each, each line representing one side of a box, celebrated poet Carole Boston Weatherford powerfully narrates Henry Brown's story of how he came to send himself in a box from slavery to freedom. Strikingly illustrated in rich hues and patterns by artist Michele Wood, Box is augmented with historical records and an introductory excerpt from Henry's own writing as well as a time line, notes from the author and illustrator, and a bibliography.

Fighting Words

by

Ten-year-old Della has always had her older sister, Suki: When their mom went to prison, Della had Suki. When their mom's boyfriend took them in, Della had Suki. When that same boyfriend did something so awful they had to run fast, Della had Suki. Suki is Della's own wolf--her protector. But who has been protecting Suki? Della might get told off for swearing at school, but she has always known how to keep quiet where it counts. Then Suki tries to kill herself, and Della's world turns so far upside down, it feels like it's shaking her by the ankles. Maybe she's been quiet about the wrong things. Maybe it's time to be loud. In this powerful novel that explodes the stigma around child sexual abuse and leavens an intense tale with compassion and humor, Kimberly Brubaker Bradley tells a story about two sisters, linked by love and trauma, who must find their own voices before they can find their way back to each other.

We Dream of Space

by

Cash, Fitch, and Bird Nelson Thomas are three siblings in seventh grade together in Park, Delaware. In 1986, as the country waits expectantly for the launch of the space shuttle Challenger, they each struggle with their own personal anxieties. Cash, who loves basketball but has a newly broken wrist, is in danger of failing seventh grade for the second time. Fitch spends every afternoon playing Major Havoc at the arcade on Main and wrestles with an explosive temper that he doesn't understand. And Bird, his twelve-year-old twin, dreams of being NASA's first female shuttle commander, but feels like she's disappearing. The Nelson Thomas children exist in their own orbits, circling a tense and unpredictable household, with little in common except an enthusiastic science teacher named Ms. Salonga. As the launch of the Challenger approaches, Ms. Salonga gives her students a project--they are separated into spacecraft crews and must create and complete a mission. When the fated day finally arrives, it changes all of their lives and brings them together in unexpected ways. Told in three alternating points of view, We Dream of Space is an unforgettable and thematically rich novel for middle grade readers. We Dream of Space is illustrated throughout by the author.

A Wish in the Dark

by

A boy on the run. A girl determined to find him. A compelling fantasy looks at issues of privilege, protest, and justice. All light in Chattana is created by one man -- the Governor, who appeared after the Great Fire to bring peace and order to the city. For Pong, who was born in Namwon Prison, the magical lights represent freedom, and he dreams of the day he will be able to walk among them. But when Pong escapes from prison, he realizes that the world outside is no fairer than the one behind bars. The wealthy dine and dance under bright orb light, while the poor toil away in darkness. Worst of all, Pong's prison tattoo marks him as a fugitive who can never be truly free. Nok, the prison warden's perfect daughter, is bent on tracking Pong down and restoring her family's good name. But as Nok hunts Pong through the alleys and canals of Chattana, she uncovers secrets that make her question the truths she has always held dear. Set in a Thai-inspired fantasy world, Christina Soontornvat's twist on Victor Hugo's Les Misérables is a dazzling, fast-paced adventure that explores the difference between law and justice -- and asks whether one child can shine a light in the dark.
Previous Newberry Award Winners