Skip to Main Content
It looks like you're using Internet Explorer 11 or older. This website works best with modern browsers such as the latest versions of Chrome, Firefox, Safari, and Edge. If you continue with this browser, you may see unexpected results.
The Asian Pacific American Award for Literature
The goal of the Asian/Pacific American Award for Literature is to honor and recognize individual work about Asian/Pacific Americans and their heritage, based on literary and artistic merit.
The Asian/Pacific American Librarians Association (APALA) was founded in 1980 by librarians of diverse Asian/Pacific ancestries committed to working together toward a common goal: to create an organization that would address the needs of Asian/Pacific American librarians and those who serve Asian/Pacific American communities.
Current APAAL Winner for Children's Literature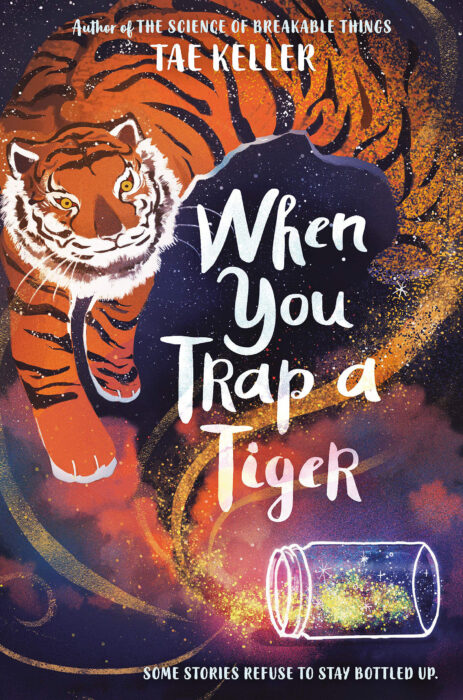 When You Trap a Tiger

by

Would you make a deal with a magical tiger? This uplifting story brings Korean folklore to life as a girl goes on a quest to unlock the power of stories and save her grandmother. Some stories refuse to stay bottled up... When Lily and her family move in with her sick grandmother, a magical tiger straight out of her halmoni's Korean folktales arrives, prompting Lily to unravel a secret family history. Long, long ago, Halmoni stole something from the tigers. Now they want it back. And when one of the tigers approaches Lily with a deal--return what her grandmother stole in exchange for Halmoni's health--Lily is tempted to agree. But deals with tigers are never what they seem! With the help of her sister and her new friend Ricky, Lily must find her voice...and the courage to face a tiger. Tae Keller, the award-winning author of The Science of Breakable Things, shares a sparkling tale about the power of stories and the magic of family. Think Walk Two Moons meets Where the Mountain Meets the Moon!
Current APAAL Winner for Youth Literature
This Light Between Us: a Novel of World War II

by

In 1935, ten-year-old Alex Maki from Bainbridge Island, Washington is disgusted when he's forced to become pen pals with Charlie Lévy of Paris, France—a girl. He thought she was a boy. In spite of Alex's reluctance, their letters continue to fly across the Atlantic--and along with them, the shared hopes and dreams of friendship. Until the Japanese attack on Pearl Harbor and the growing Nazi persecution of Jews force them to confront the darkest aspects of human nature. From the desolation of an internment camp on the plains of Manzanar to the horrors of Auschwitz and the devastation of European battlefields, the only thing they can hold onto are the memories of their letters. But nothing can dispel the light between them.
Current APAAL Winner for Picture Books
Paper Son: the Inspiring Story of Tyrus Wong, Immigrant and Artist

by

An inspiring picture-book biography of animator Tyrus Wong, the Chinese American immigrant responsible for bringing Disney's Bambi to life. Before he became an artist named Tyrus Wong, he was a boy named Wong Geng Yeo. He traveled across a vast ocean from China to America with only a suitcase and a few papers. Not papers for drawing--which he loved to do--but immigration papers to start a new life. Once in America, Tyrus seized every opportunity to make art, eventually enrolling at an art institute in Los Angeles. Working as a janitor at night, his mop twirled like a paintbrush in his hands. Eventually, he was given the opportunity of a lifetime--and using sparse brushstrokes and soft watercolors, Tyrus created the iconic backgrounds of Bambi. Julie Leung and Chris Sasaki perfectly capture the beautiful life and work of a painter who came to this country with dreams and talent--and who changed the world of animation forever.
Current APAAL Honor Book for Picture Books
Children's Literature Honor Book
Prairie Lotus

by

Prairie Lotus is a powerful, touching, multilayered book about a girl determined to fit in and realize her dreams: getting an education, becoming a dressmaker in her father's shop, and making at least one friend. Acclaimed, award-winning author Linda Sue Park has placed a young half-Asian girl, Hanna, in a small town in America's heartland, in 1880. Hanna's adjustment to her new surroundings, which primarily means negotiating the townspeople's almost unanimous prejudice against Asians, is at the heart of the story. Narrated by Hanna, the novel has poignant moments yet sparkles with humor, introducing a captivating heroine whose wry, observant voice will resonate with readers.
Honor Picture Book
Danbi Leads the School Parade

by

Meet Danbi, the new girl at school! Danbi is thrilled to start her new school in America. But a bit nervous too, for when she walks into the classroom, everything goes quiet. Everyone stares. Danbi wants to join in the dances and the games, but she doesn't know the rules and just can't get anything right. Luckily, she isn't one to give up. With a spark of imagination, she makes up a new game and leads her classmates on a parade to remember! Danbi Leads the School Parade introduces readers to an irresistible new character. In this first story, she learns to navigate her two cultures and realizes that when you open your world to others, their world opens up to you.
Youth Literature Honor Book
Displacement

by

A teenager is pulled back in time to witness her grandmother's experiences in World War II-era Japanese internment camps in Displacement, a historical graphic novel from Kiku Hughes. Kiku is on vacation in San Francisco when suddenly she finds herself displaced to the 1940s Japanese-American internment camp that her late grandmother, Ernestina, was forcibly relocated to during World War II. These displacements keep occurring until Kiku finds herself "stuck" back in time. Living alongside her young grandmother and other Japanese-American citizens in internment camps, Kiku gets the education she never received in history class. She witnesses the lives of Japanese-Americans who were denied their civil liberties and suffered greatly, but managed to cultivate community and commit acts of resistance in order to survive. Kiku Hughes weaves a riveting, bittersweet tale that highlights the intergenerational impact and power of memory.