Skip to Main Content
It looks like you're using Internet Explorer 11 or older. This website works best with modern browsers such as the latest versions of Chrome, Firefox, Safari, and Edge. If you continue with this browser, you may see unexpected results.
The Theodore Seuss Geisel Award
The Theodor Seuss Geisel Award is given annually to the author(s) and illustrator(s) of the most distinguished American book for beginning readers published in English in the United States during the preceding year. The winner(s), recognized for their literary and artistic achievements that demonstrate creativity and imagination to engage children in reading, receives a bronze medal. Honor Book authors and illustrators receive certificates, which are presented at the ALA Annual Conference. The award was established in 2004 and first presented in 2006.
The award is named for the world-renowned children's author, Theodor Geisel. "A person's a person no matter how small," Theodor Geisel, a.k.a. Dr. Seuss, would say. "Children want the same things we want: to laugh, to be challenged, to be entertained and delighted." Brilliant and playful, Dr. Seuss charmed his way into the consciousness of four generations of youngsters and parents. In the process, he helped them to read.
Current Geisel Award Winner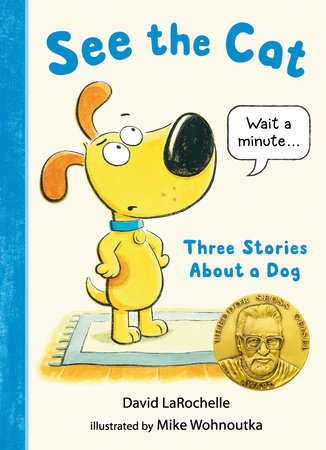 See the Cat: Three Stories about a Dog

by

Move over, Spot. . . . Spoofing classic primers, Max the Dog talks back to the book in a twist that will have fans of funny early readers howling. See Max. Max is not a cat--Max is a dog. But much to Max's dismay, the book keeps instructing readers to "see the cat." How can Max get through to the book that he is a DOG? In a trio of stories for beginning readers, author David LaRochelle introduces the excitable Max, who lets the book know in irresistibly emphatic dialogue that the text is not to his liking. Illustrator Mike Wohnoutka hilariously depicts the pup's reactions to the narrator and to the wacky cast of characters who upend Max's--and readers'--expectations as the three stories build to an immensely satisfying conclusion. Hooray, Max, hooray!
Current Geisel Honor Books
The Bear in My Family

by

An overbearing older sibling can really be a bear, but the child in this understated, gently humorous story finds out that they can have their advantages, too. "I live with a bear," the story's young narrator declares. The bear is loud, messy, uncouth, and very strong (too strong!). For some reason, his parents treat the bear like family, despite his protests. Why can't they see? Then he runs into some bullies on the playground. When the bear ROOAARS with all her might and scares them away, he realizes that there are advantages to having a bear in the family. In a delightful twist, the narrator's older sister (the bear) appears, telling him that she is NOT a bear. But if she is, HE is too--because two bears are even better than one!

Ty's Travels: Zip, Zoom!

by

Ty can't wait to ride his brand-new scooter at the park. Other kids zip and zoom by like race cars, but all Ty can do is wobble! Ty wants to give up, but a new friend helps Ty give it another try. Celebrate imagination and the power of persistence in Ty's Travels: Zip, Zoom! by the acclaimed author and illustrator team Kelly Starling Lyons and Nina Mata. With simple, rhythmic text and joyful, bright art, this Guided Reading Level I and My First series I Can Read is perfect for shared reading with a child.

What about Worms!? (Elephant and Piggie Like Reading!)

by

Tiger is BIG. Tiger is BRAVE. And Tiger is NOT afraid of anything . . . except WORMS! Are Tiger's worm worries worse than worms?

Where's Baby?

by

Papa Fox is looking for Baby Fox, who is just out of his sight . . . but not ours! An adorable, interactive read-aloud for fans of Are You My Mother? In this clever introduction to prepositions, a near-sighted Papa is looking for his baby. Is Baby up in the tree? Is Baby under the log? Is Baby around the corner? Where could Baby be? Readers will delight in spotting the little fox on every page as Papa wanders the forest, encountering other animals all along the way, but never quite able to spot his own baby. Anne Hunter's delicate and lovely illustrations with their limited palette highlight the humor of this adorable hide-and-seek tale.
Previous Geisel Award Winners